Derwent Sash windows offer a complete range of doors in Timber, Aluminium, Composite and wood effect UPVC.

All doors can be custom styled to any design you require and can feature multi point locking, stained glass, leaded glass and a wide selection of door furniture.
Engineered Timber Doors
Bespoke Engineered Timber Doors made to any design, fully finished. The doors feature the very latest multi-point locking; all furniture options available and existing stained glass can either be retained and fitted into your new door or manufactured to any design. Door can be finished in any colour of your choosing.
Please click to view a portfolio of our door installations >>>


English Door Company Doors
Timber Alternative UPVC has become very popular in recent years.
Each wood grain effect door brings you the peace of mind and security to deal with modern day to day life challenges. With state-of-the-art multi-point locking systems, world class weather proofing, outstanding A+ energy efficiency as well as high quality durability – an English Door Company by Evolution doors are an excellent low maintenance choice for your home without compromising on a traditional look.


Composite Doors
Our outstanding collection of high-quality unique composite doors. Solid laminate 48mm timber core that combine classical or modern styling with high security locking which provides a stunning, highly secure entrance to any home.

These exclusive doors are available in a wide range of style and colour options including Duck Egg Blue, Chartwell Green, Cream, Anthracite Grey, foiled white, two blacks, rosewood, Sherwood oak, Irish oak, white, red, blue and green, the option of various low thresholds both upvc and aluminium, making it the perfect solution for easy wheel or push chair access.
Secured-by-Design accredited.

Please click to view a portfolio of our door installations >>>
French Doors
Our collection of French Doors is an attractive way to add value to your property, as well as providing easy access. A French door brings a room to life by flooding it with light, helping you to enjoy your outside space.

We have a wide range of styles to choose from, to complement the style and character of your home, or reflecting the demands and requirements of everyday life. Available in Timber, Aluminium and wood effect UPVC.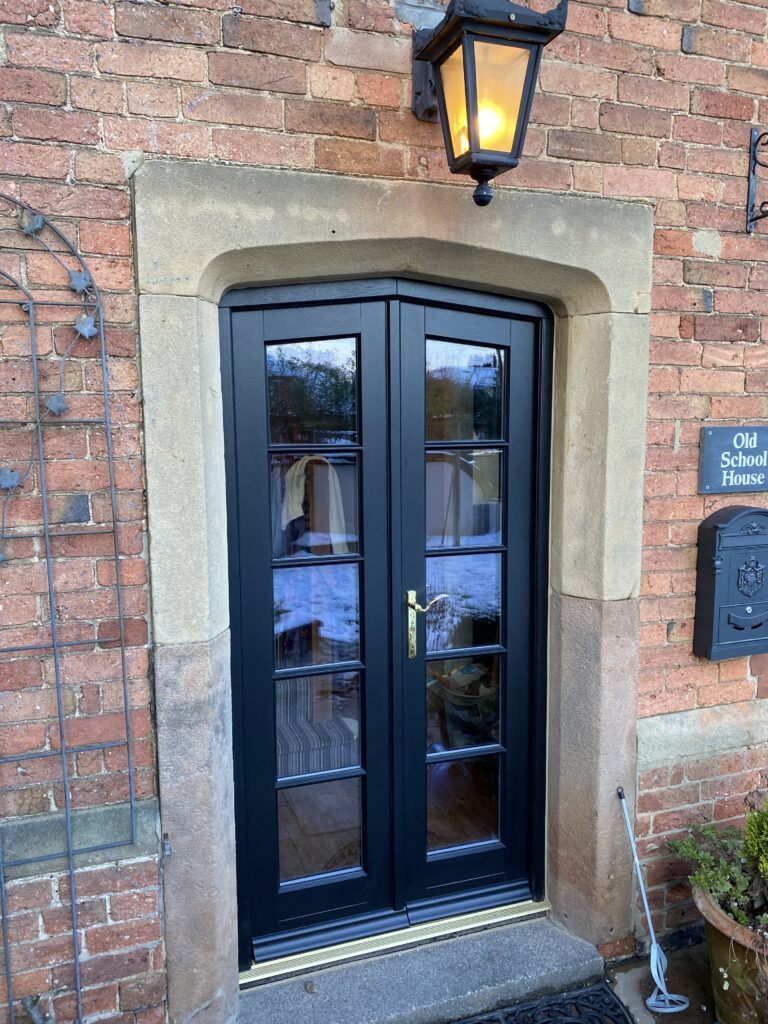 Please click to view a portfolio of our door installations >>>
Bi-fold Doors
Let our folding doors transform the way you live your life. Designed to allow quick, easy access to your garden by neatly folding in on themselves, creating a wonderful feeling of freedom and space that will really open up your room. Folding sliding doors will provide you versatility and flexibility you need to create a relaxing and ambient environment.

Available in a range of styles and designs, panels can be stacked inside or outside of the room, to the left, right or split to stack on both sides. Door sets can be manufactured to replace entire walls to maximise your opening space. Available in Timber, Aluminium and wood effect UPVC. We have Aluminium and Timber Bi-Folds on show in our Ripley showroom for you to view, see our showroom opening hours and visit at your leisure.
Sliding Doors
The Origin Patio Slider's classic design lends itself to any style of property, and as it's completely bespoke, it can be tailored to coordinate with your taste and any style of property. Whether you are looking to complement an ultra-modern new build or replace an existing door set, it can inject effortless elegance into home. View in our Ripley Showroom.